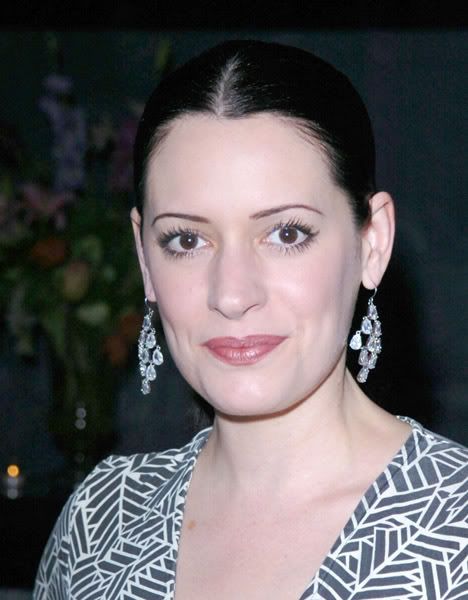 Brewster: From fringe to TV's mainstream
Sun, Feb. 18, 2007
By Mike Antonucci
Mercury News
Twelve years ago, Paget Brewster was billed as the ultimate discovery in fringe talent. A San Francisco TV station had given her a 1:30 a.m. talk show as ``an art school dropout who spent four years playing in a rock band, a former bartender, waitress, office temp and street singer.''
Today, Brewster is as mainstream a star as you'll find on TV. She's a recent addition to one of prime time's hottest dramas, ``Criminal Minds'' on CBS, and was in the forefront of the TV Guide cover photo that featured the show earlier this month.
She also entered the realm of eternal holiday reruns by playing the wife of Rob Lowe's character in December's made-for-TNT movie ``A Perfect Day.''
With that kind of success, Brewster can rely on publicity pros to trumpet her credits -- which include a breakthrough set of ``Friends'' episodes in 1997 and '98 -- and gloss over her dropout singing days in New York, living in a condemned building and too insecure to go to acting school.
It's a good thing Brewster, 37, doesn't do her own PR. Here are samples of what she's in danger of telling anybody who asks.
• On why she gets hired: ``I think I'm a good team player. I'm not a model, but I'm not ugly. I'm funny, I can act well enough, and after two hours of makeup, we've got a pretty good-looking broad. Big nose, but otherwise, pretty OK.''
• On life as an eligible celebrity: ``All I do is work, and I'm not going to mess around with anyone at work. I feel like I'm going to end up on Match.com. I need to be kissed, but I'm like catnip to guys who are too young for me.''
• On her first Hollywood agent: ``He was acting really squirrelly when I was meeting with him, and it turned out he was going to another agency, and he was trying to figure out how to get his files out of the building. So I said I'd steal his files for him if he took me with him to the other agency. I took them right down to my car, and he kept me.''
Pure begging persuaded a previous agent in San Francisco to arrange the meeting that landed Brewster her talk show on KPIX (Ch. 5). She was on the air in 1995 as sort of a wannabe Riki Lake, getting both fan and stalker letters.
In 1996, after the show was canceled, Brewster left for Los Angeles. She says the agent with the pilfered files invented a story about a TV network offering her a large contract, then enticed other networks to make frantic competing offers.
``I was meeting with network presidents in my first six days in L.A.,'' she recalls. ``Every place I went there was a fruit platter.''
The upshot was a deal with Fox that turned into a couple of years of making money but not achieving much, except for work in pilot episodes that didn't get picked up as series.
Then came the memorable episodes on ``Friends'' as Kathy, a woman who came between Joey and Chandler.
That was followed by roles in shows that did get picked up as series -- and which died so rapidly that TV writers began describing Brewster as a dreaded cancellation jinx.
``My name was being written as `Paget Brewster, show killer,' '' she says.
``Love & Money'' on CBS (1999) and ``The Trouble with Normal'' on ABC (2000) are largely forgotten; ``Andy Richter Controls the Universe'' on Fox (2002-03) was a critics' favorite but also flamed out quickly.
A dollop of stability arrived with ``Huff,'' a Showtime series (2004-06) in which Brewster played the wife of a problem-ridden psychiatrist (portrayed by Hank Azaria). ``Huff'' was hailed as a prestige show, and Brewster got good reviews. But some of the themes, which included suicide and sickness, required too much emotional investment.
``Acting that material made me personally unhappy,'' Brewster says. ``It was a great job to get, but I'd rather be funny or waving a gun.''
She's getting that latter wish on ``Criminal Minds,'' playing an FBI agent on a show that's now a flagship hit for CBS. What does Brewster add? ``Scissory sleekness,'' says Entertainment Weekly.
It's hard to predict what's ahead for her, but her acting career already has lasted years longer than she expected, not to mention that it's flourishing.
``It's actually fantastic,'' she says. ``Running around with guns drawn is really fun.''
More about Paget Brewster
• She played Ms. Indestructible in the superheroes movie ``The Specials'' that also featured Rob Lowe, Thomas Haden Church and Jamie Kennedy.
• Her career total for TV pilots (including the handful picked up as series): 16.